Andrew Hallam
31.01.22
Who Wants To Be a Millionaire Expat?
_
Many of us wouldn't mind receiving a call from a television game show host. "Hello, this is Bob Moneybags. I'm host of the series, Who wants to be an expat millionaire? We're offering you a chance to win the riches of your dreams."
In 2011, I wrote a book called Millionaire Teacher. It didn't offer a get-rich quick scheme. Instead, it explained how people could slowly build wealth with a portfolio of index funds or ETFs. It became an international bestseller: the first book of its genre to hit #1 on Amazon's charts in Canada and the United States.
Soon after, I received emails from people abroad. British expats living in Dubai, for example, asked me what brokerages they should use and what products they should buy to do the same thing. Canadians, Australians, New Zealanders, Africans, South Americans and Asians emailed similar questions.
After Millionaire Teacher's success, my publisher wanted me to write a follow-up book that would, again, mainly be aimed at the large US market. But plenty of good American books distil the same theme. None of these books, however, were written for other nationalities living abroad. I told my publisher, "I need to write a book for expats." From a sales perspective, the publisher knew that didn't make sense. There are 360 million people in the United States. The expat market abroad was a fraction of that. But I knew that financial salespeople (crooks in suits) fleeced expats every day.
If you're an expat living in Asia, Africa or the Middle East, someone has likely cold-called you to sell a high-cost, inflexible investment scheme. They promise the world. And these schemes make a bundle in commissions for the silver tongues who sell them. Unfortunately, if you buy one, they typically lock in your money for 20 or 25 years. You can't access your money or close the account earlier without paying a massive penalty. And because they charge stratospheric fees, profits climb as effectively as a 200 kg slug ascending Mt. Blanc.
These toxic products are known by many names, including investment-linked assurance schemes and private "pensions." They represent baskets of mutual funds with an insurance wrapper. The total hidden costs, if run through a spreadsheet, are enough to make the toughest eyes bleed. Sadly, they're also commonly sold in European banks.
When I showed these products to my editor at Canada's MoneySense magazine, he was shocked. He asked, "How can these be legal?
In a quest to help people against such exploitation, I published The Global Expatriate's Guide to Investing in 2014. In 2018, I followed up with a second, re-named, edition: Millionaire Expat: How To Build Wealth Living Overseas.
They were the only books in the world explaining how expats can build portfolios of low-cost ETFs. I joke that they were the two best…and the two worst. In an effort to continue improving my message, I published the third edition of Millionaire Expat in January. It's the #1 selling investment book on Amazon in the UAE.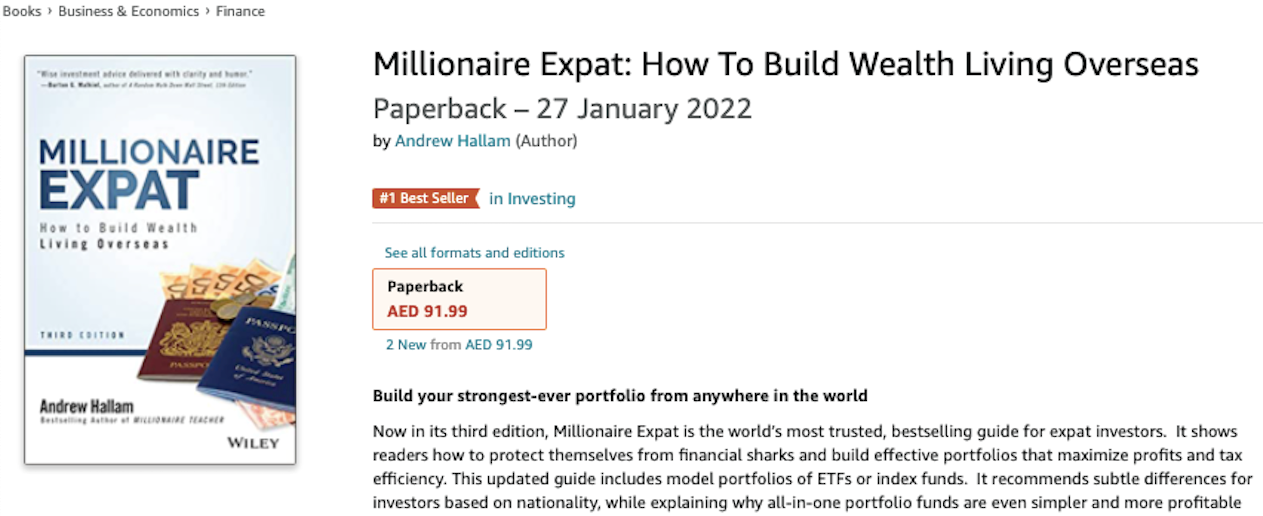 The book starts from ground zero, explaining how the stock market and compound interest work. It offers several model portfolios and brokerage options for investors. Such portfolios cater to different nationalities and different tolerances for risk. The model portfolios also include SRI (socially responsible) ETF selections and portfolios for Muslims, which adhere to Sharia law.
I also explain why Vanguard's Life Strategy Funds, available through Swissquote Bank Europe, offer a very solid choice for British expats.
For those who don't want to invest on their own, I describe several full service and robo-advisor options. In each case, such firms solely build portfolios with low-cost ETFs.
Several of the DIY options are updated from the second edition. New to this edition are some examples of how expats can repatriate their money to their home countries while I explain several basic tax laws.
And if you're late to the investment game, and you haven't saved a lot of money, the final four chapters offer something hopeful: examples of low cost countries to which you could retire.
Please avoid this book, however, if you have a sophisticated or absent sense of humour.
My humour is stuck at a teenager's level.
---
Andrew Hallam is a Digital Nomad. He's the bestselling author Balance: How to Invest and Spend for Happiness, Health and Wealth. He also wrote Millionaire Teacher and Millionaire Expat: How To Build Wealth Living Overseas
Swissquote Bank Europe S.A. accepts no responsibility for the content of this report and makes no warranty as to its accuracy of completeness. This report is not intended to be financial advice, or a recommendation for any investment or investment strategy. The information is prepared for general information only, and as such, the specific needs, investment objectives or financial situation of any particular user have not been taken into consideration. Opinions expressed are those of the author, not Swissquote Bank Europe and Swissquote Bank Europe accepts no liability for any loss caused by the use of this information. This report contains information produced by a third party that has been remunerated by Swissquote Bank Europe.
Please note the value of investments can go down as well as up, and you may not get back all the money that you invest. Past performance is no guarantee of future results.