_
Cryptocurrencies
Digital currencies are known for their volatility, but have also offered high returns. Up to the challenge? Discover the 34 currencies available on our platform.

Promising new asset class
Cryptos are a promising new market with rising global liquidity levels

High volatility
Cryptos' high volatility presents both increased risks, but also unprecedented opportunities

Crypto never sleeps
You can trade cryptos around the clock – 24/7
The Swissquote edge
_
• The best of all crypto worlds: Developed by the Swissquote Group, the SQX exchange aggregates liquidity from major external crypto exchanges, as well as Swissquote and its clients, for more enhanced prices.
• The real thing: We don't just provide exposure to crypto via derivatives. You can trade and hold actual crypto assets in your Swissquote wallet.
• Swiss group safety: Enjoy the security of a regulated and listed Swiss group.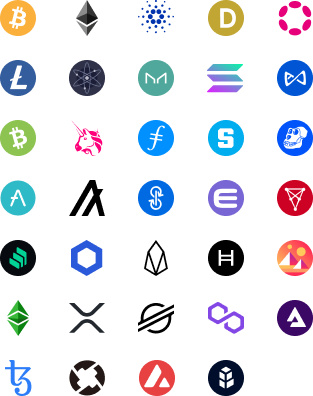 To the moon!
_
Cryptos are one of the best performing asset classes over the past few years, and they still post impressive growth spurts regularly.
Enjoy the crypto-ride with Swissquote.
How to buy and sell cryptocurrencies at Swissquote
From your account overview
Scroll down to the crypto-assets section, click on "Go to platform with account", then click "Trade" on the desired currency pair.
Via our eTrading platform
Type the desired crypto, for instance "Bitcoin" or "BTC" in the Search & Trade widget. Select the "Cryptocurrencies" asset class, then trade.
Digital Assets are unregulated in most countries and consumer protection rules do not apply. As highly volatile speculative investments, Digital Assets can become illiquid at any time, and are not suitable for investors without a high risk tolerance. Make sure you understand each Digital Asset before you trade.
Crypto traders are also interested in …
_
FAQ - General questions
_
How can I trade cryptocurrencies?
You can trade cryptocurrencies directly from your Swissquote mobile app, the eTrading platform or the cryptocurrency service in your eBanking portal.
You must hold a Swissquote Trading Account with cash available in EUR and/or USD, as currently cryptocurrencies can only be traded with these two currencies.
Do I have to pay custody fees?
There are no custody fees. The account maintenance fee is free if you trade stocks and/or ETFs at least once a month, and EUR 15 per month when you don't.
What are the transaction fees?
Our trading account includes all that you need for your investing journey. To find out more about your simple and transparent pricing, visit the pricing section of our website.
What is the minimum transaction amount?
The minimum buy/sell amount for Cryptocurrencies is equivalent to EUR/USD 25.
Where do I find the charts?
The performance graph is available on the dedicated Crypto Asset platform under My account > Account overview > Crypto Assets > Trade > Show details.
What is the settlement date of a cryptocurrency?
Settlement is instantaneous.
How does Swissquote keep your cryptocurrencies safe and secure?
With the safety of our clients' digital assets as our number one priority, Swissquote operates state-of-the-art security systems including multi-signature wallets, offline storage of cryptographic materials and strict access-control policies. We rely on redundant custody solutions, including ours and external partners' to store client digital assets. Only a minimal amount of digital assets are held with sub-custodians, such as those necessary for day-to-day trading activities with the relevant liquidity providers.
Which are the Sub-custodians and Liquidity Providers used by Swissquote for Cryptocurrencies?
Swissquote Bank Europe solely uses Swissquote Bank SA, a Finma-regulated bank in Switzerland, as its digital asset custodian. Swissquote Bank SA relies primarily on its own redundant custody solutions with only a minimal amount of digital assets held by its liquidity providers acting as sub-custodians for day-to-day trading activities requirements. These liquidity providers are: Bitstamp Europe S.A. (Luxembourg), Bitstamp Limited (United Kingdom), Ltd by Coinbase Europe Limited (Ireland), Ltd and CB Payment, Ltd. (United Kingdom)
| Digital Assets | Service | Sub-custodians |
| --- | --- | --- |
| ETH, DOT, SOL and XTZ | Staking | Coinbase Custody Trust Company, LCC (USA) |
What is Swissquote's current policy in relation to the treatment of Hard Forks and similar events?
While the treatment of Hard Forks and similar events (incl. "airdrops" and other token allocation events) is uncertain from a legal and practical perspective, Swissquote's current policy in this regard is to make its best efforts to have its concerned clients benefit from such events, the way Swissquote deems appropriate. For more details, please refer to our Policy on Hard forks and similar events and section 12 of our Digital Assets Contract.
Are cryptocurrencies taxable?
Swissquote does not provide tax advice. It is your responsibility to fulfil any tax obligations that you may have depending on your individual circumstances. Swissquote provides details of your cryptocurrency positions in January of each year to help you fulfil tax filing obligations. This information can be found in the «Documents» section of your account.
Can I transfer cryptocurrencies in and out of my Swissquote account?
You cannot transfer cryptocurrency in and out of your Swissquote account.
Some crypto providers have stopped offering Ripple trading to their clients due to recent events. What is Swissquote's stance on the matter?
Swissquote will continue providing access to XRP for as long as the situation allows it. Please be aware that the situation can change quickly. For this reason, it is important that you regularly review your cryptocurrency holdings, specifically XRP, and whether you remain comfortable with the associated risks. Read more about the risks associated with Ripple here.