A security shield for your account
Keep your finances scam-proof with Mobile Level 3. This feature delivers a two-factor authentication process: a powerful barrier against phishing and the assurance that your capital is always protected. 



What is Mobile Level 3?
Mobile Level 3 is a two-factor authentication that allows you to use your smartphone to confirm your login, transactions and other important actions. This feature is integrated in the Swissquote Trading app, making it faster and more secure than the usual forms of authentication via email or SMS.
How to activate it?
_
1. Download and install the Swissquote Trading app on your smartphone
2. Activate Mobile Level 3
2.1 Open the app and log into your account
2.2 Switch on Mobile Level 3 in your account settings
2.3 On iOS devices, enable push notifications for the app (on Android devices, they are enabled automatically)
3. You're all set!
You will now receive notifications on your phone to approve important actions.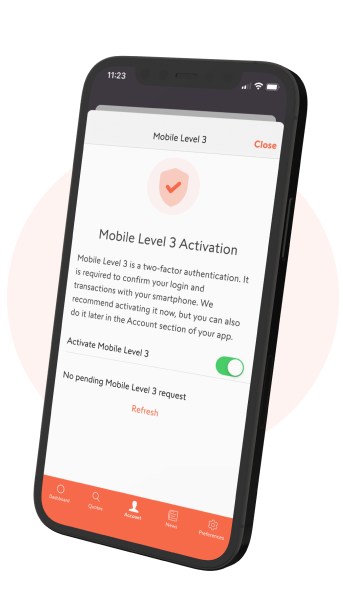 Where to find it in your app?
_
IOS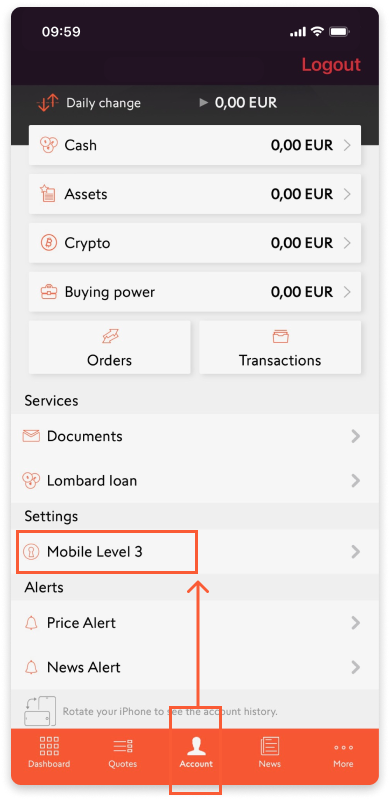 Android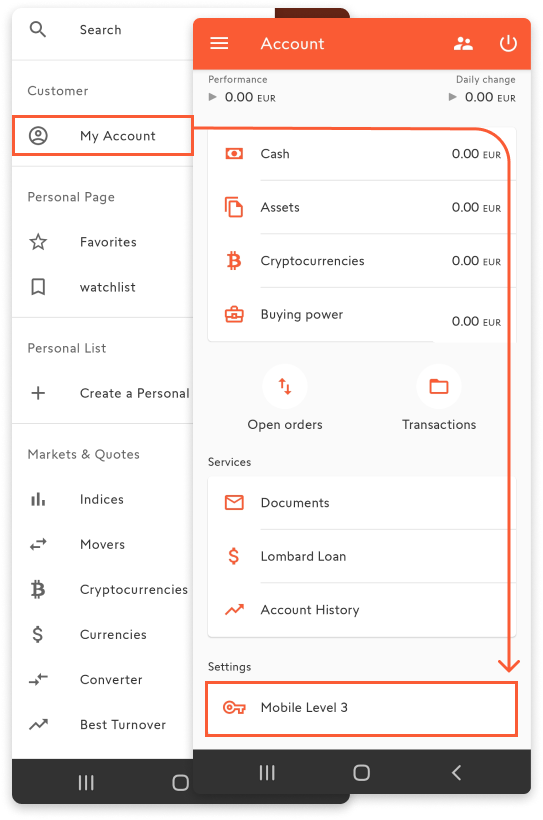 What can you do with it?
_
Mobile Level 3 allows convenient and secure authentication for the following actions:
• Login to your trading platform
• Login to your Swissquote Trading app
• Trading operations
• Payments & transfers
• Making changes to your profile


 
Are there other alternatives?
_
To ensure the security of your account, Swissquote always requires two-factor authentication to verify your login and transactions.

We highly recommend Mobile Level 3 as your authentication method, as it is the fastest and most secure option.

If for some reason Mobile Level 3 is not an option for you, the Level 3 Card, which you are prompted to download on your first login after opening your account, can be used as an alternative for all operations except payments. If you lose the card, you can contact our Customer Care Centre to obtain a new one.
How to confirm an action with Mobile Level 3
_
1.
The authentication window pops up when performing an important operation.
2.
With Mobile Level 3 activated, you will receive a notification on your smartphone. Tap it, then authenticate with PIN or biometrics to proceed.
3.
Verify that the confirmation code in the authentication window matches the code on your smartphone.
4.
Tap "Confirm" to validate the operation.
Requirements
_
Mobile Level 3 is available to all Swissquote clients with a Trading account.

The Swissquote Trading app must be installed on a compatible device:

• iPhone or iPad – check the app description on the App Store to see supported iOS versions

• Android smartphone or tablet – check the app description on Google Play or the Huawei AppGallery to see supported Android versions
 
Keep your app updated!
_
For security reasons, some Mobile Level 3 functionalities may be unavailable if you have an outdated version of the Swissquote Trading app installed on your device.

We add new features regularly, so keeping your app up-to-date also allows you to enjoy the best trading experience and seize the hottest opportunities!