Luxembourg life insurance is the tool of choice for asset planning and capital protection
A unique protection mechanism in Europe
_
Security triangle
_
The assets are deposited in an account separate from the insurer's assets with a custodian bank approved by the CAA, which carries out regular checks on the insurer's reserves.
.
Superprivilege
_
In the event of the insurer's default, the policyholder will be able to recover its assets in priority to all the company's other creditors, including the State, social security bodies, shareholders and employees.
Tax neutrality
_
There is no taxation in Luxembourg for the policyholder, who will be taxed according to their tax residence.
.
.
Swissquote Bank Europe solutions
_
.
Available from EUR 250k
_
Custodian fees of
0.06% excluding VAT
_
Multi-currency contracts (EUR, USD, CHF, GBP...)
_
DIF
Dedicated Internal Fund
_
.
The DIF is a tailored discretionary management system that works based on the subscriber's risk profile. Assets are selected by the Discretionary Manager in accordance with the policy holder investment policy.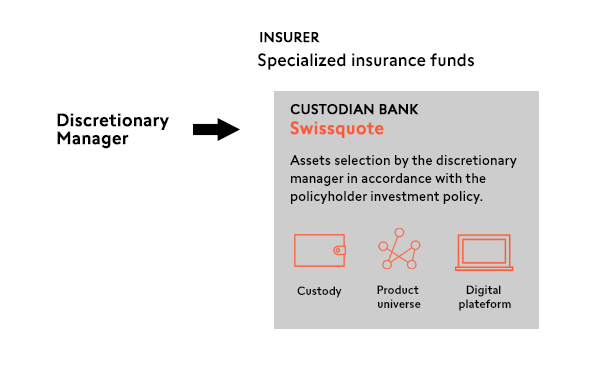 SIF
Specialised Insurance Funds
_
Our SIF option means the policyholder remains the investment decision-maker, whether they use an advisory manager or not.