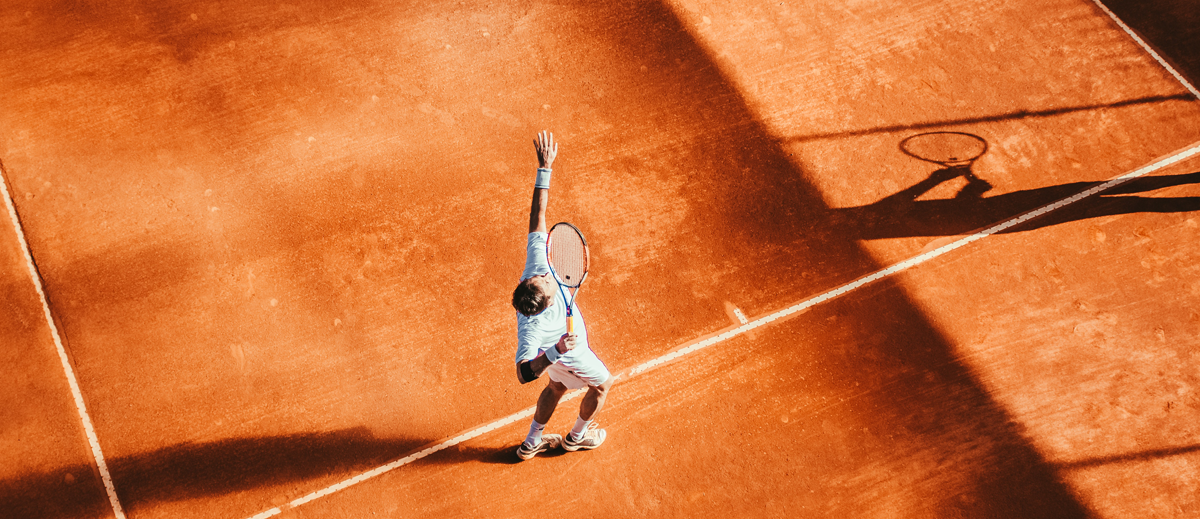 Andrew Hallam
16.11.2020
Hot Investment Hands Are Like Sports Heroes
_
I grew up watching sports. My heroes rose. They triumphed. And then they always failed. We expect that. A reporter asked former world heavyweight boxing champion, Larry Holmes, what he regretted about his career. He replied, "Getting old." Time is undefeated.
When people bet on the next Wimbledon champion, they often pick from pedigrees. But it doesn't take an expert to know that Roger Federer, at 39 years of age, has few (if any) new titles in his tank. That applies to every aging athlete. Just ask Larry Holmes.
It's easy to surmise when these heroes will lose their edge. Achievements begin to wane after 30 years of age. By 40, only a handful of outliers still hang on.
Investment heroes lose their mojo, too. But that's tougher to predict. One year, they might bask at the top. The next year, they're on the canvas, never to rise again. Unfortunately, they usually get hit when investors least expect it. We see a strong track record and expect it to continue.
In November 2011, I wrote the first edition of my book, Millionaire Teacher. I said investors should build a diversified portfolio of low-cost index funds. They shouldn't try to time the market. They shouldn't keep cash on the side, hoping for a better time to buy. They shouldn't tactically move money around from stocks to gold to bonds, based on what they or an expert says is going to happen. Most importantly, they shouldn't invest with a guru who they believe can see the future.
In that book, I echoed what smarter men than me already knew. Nobel Prize winners in economics such as the late Paul Samuelson, William F. Sharpe, Daniel Kahneman and Eugene Fama said past performance doesn't matter. They said the best future odds come from a diversified portfolio of low-cost index funds. Warren Buffett says the same.
My little book became a #1 bestseller on Amazon for Business and Investing. It topped the Amazon charts in Canada, too. I received several emails, ranging from "Thank you" to "I think you're crazy, Hallam!"
The angry crowd believed that they, or someone they knew, could beat the market. They could base decisions on the economy, an election, debt levels, foreign policy or a surge in technology. But evidence says we can't. At least, not with a level of consistency that will help us, long-term.
After I wrote that book, plenty of people asked, "What about Ray Dalio?" In July 2011, The New Yorker published, "Mastering the Machine, how Ray Dalio built the world's richest and strangest hedge fund." Between 1991 and 2011, Ray Dalio's Bridgewater Pure Alpha Fund gained a whopping 1,258 percent. Plenty of new investors jumped on board, hoping for a sequel.
But investing isn't about finding the next hot hand. Once we find it, such hands usually turn cold. That rarely happens right away. But time is undefeated.
Bridgewater's Pure Alpha Hedge Fund had a great track record. That drew plenty of believers. Unfortunately, most of them bought in after its record-setting pace. And this cost them plenty. Over the first 9 months of 2020, U.S. stocks and bonds both made money. But Bridgewater's flagship plunged 14.6 percent.
That was on the tail of other poor results since the fund's performance peaked in late 2011. Investors who bought the fund nine years ago have since lost to U.S. stocks and U.S. bonds. In fact, they barely beat inflation.
That doesn't mean Ray Dalio isn't smart. He's likely a genius. But the market is a lot like time. It's really tough to beat.
You might have your eye on a hot fund now. Consider, however, reversion to the mean. Today's hot hand will almost certainly burn you later, or it might fall into a hole of anonymity. That's why smart investors ignore hot track records. They maintain a diversified portfolio of low-cost index funds instead.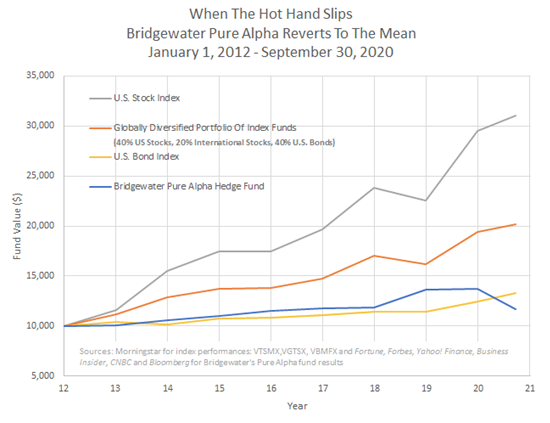 Bridgewater Pure Alpha Annual Returns and Sources
30-Year U.S. Treasury Bonds
---
Andrew Hallam is a Digital Nomad. He's the author of the bestseller, Millionaire Teacher and Millionaire Expat: How To Build Wealth Living Overseas
Swissquote Bank Europe S.A. accepts no responsibility for the content of this report and makes no warranty as to its accuracy of completeness. This report is not intended to be financial advice, or a recommendation for any investment or investment strategy. The information is prepared for general information only, and as such, the specific needs, investment objectives or financial situation of any particular user have not been taken into consideration. Opinions expressed are those of the author, not Swissquote Bank Europe and Swissquote Bank Europe accepts no liability for any loss caused by the use of this information. This report contains information produced by a third party that has been remunerated by Swissquote Bank Europe.
Please note the value of investments can go down as well as up, and you may not get back all the money that you invest. Past performance is no guarantee of future results.