Trade stocks, ETFs, funds and more with the safety of a leading bank for investors
DISCOVER OUR LIMITED TIME OFFER
Join Swissquote and earn up to EUR 1'000 when you make a qualifying deposit of new money or assets
 
1. Open
Open a trading account between 1 September and 30 November 2023 with the promo code MKT_BONUS1000
2. Transfer
Transfer in new assets – cash or securities – before 31 January 2024
3. Earn
Your bonus is transferred into your account by 29 February 2024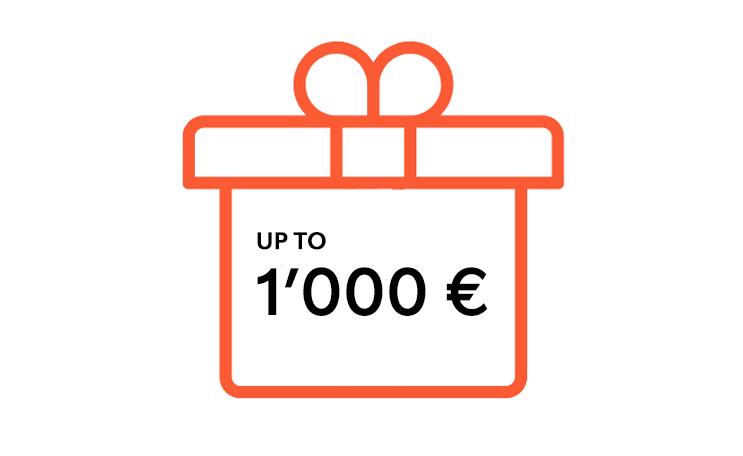 Terms and Conditions
1. This Promotion is applicable to all new clients who do not currently have a Swissquote Bank Europe account and successfully apply for a trading account with Swissquote Bank Europe using the promo code MKT_BONUS1000 between 1 September and 30 November 2023. If no promo code is indicated, the client will not receive the gift.
2. To qualify for the bonus (up to EUR 1'000), the Client must transfer in new assets (cash or securities transfer) before 31 January 2024:
- EUR 1'000 when you deposit 500'000 or more
- EUR 750 when you deposit 250,000 to 499,999
- EUR 500 when you deposit 100,000 to 249,999
- EUR 250 when you deposit 50,000 to 99,999
- EUR 100 when you deposit 10,000 to 49,999
 
3. The value of the account must remain equal to or greater than the value after the deposit was made for 12 months (excluding losses due to market movement), or Swissquote Bank Europe may charge the account for the cost of the offer at its sole discretion.
4. The bonus will be deposited into the account by 29 February 2024 the latest.
5. All other regular fees and pricing will apply, e.g. forex spreads and phone trading will be subject to the current rate card.
6. This offer is limited to one per account. Joint-account applicants and multiple account applicants are only entitled to benefit from the offer once.
7. This offer cannot be used in conjunction with any other offers.
8. This offer does not apply to Forex/CFDs or Smart Portfolio accounts
9. Swissquote Bank Europe reserves the right to add, alter or modify all or any of these terms and conditions, or replace wholly or in part, this offer by any other offer, or to withdraw the offer altogether, without prior notice.
10. This offer is provided by Swissquote Bank Europe and is governed by the applicable Luxembourg law and regulatory provisions, and banking customs generally applicable and followed in Luxembourg.
A wealth of investments to match your needs.
2'000
Lower cost clean funds
1M+
 Options & Derivatives

Trade stocks, ETFs, funds and more
with the safety of a leading bank for investors
 
Promo code : MKT_BONUS1000
Safe
_
Account based in Luxembourg, an 'AAA' financial centre.
.
Secure
_
Assets held securely by a custodian and cash protected up to EUR 100'000.
Reliable
_
Full bank status, regulated by the CSSF; under the oversight of the European Central bank.